Tier 1
My predictions weren't quite as accurate this week in the top tier, because while I correctly predicted the Owls victory over the BOOS, the the White Bears managed to upset the Jennis. As a result of the White Bears' success, we now have four teams in Tier 1. Also, congratulations are in order to our new No. 1 – the Sophisticated Owls! Wanna see who else is moving up (or down)? On with Rankings!
#1 Sophisticated Owls 3 – 2 @ 1525 pts/gm
There is no question that the Owls are dependent on their quarterbacks (P. Manning and Rivers). But when you're QBs combine for an average of 761 points per game, who cares? The Owls were the top scoring team in Week Five with 1702 points, despite several holes in his line-up (Doug Martin was on a bye, the Texans put up a squadoosh and Larry Fitzgerald has been cursed by Carson Palmer). He should have started Ruben Randle over that Durham guy, but even he caught a touchdown, so things were obviously all Owls all day. The question is this: Do the Owls have the running backs to go the distance? Gore is a workhorse to be sure (his only dud was against the vaunted Seahawks D) and you have to admit that they struck back-up gold in Freddy Jackson and JOIK! Bell. Here's crazy thing – Gore has the lowest scoring average in the group! But what that ultimately means for the Owls is that, unless Doug Martin returns to 2012 form, those three might not be enough to hold off the Jennis come play-off time. But first they have to beat The Overachievers this week, which will be more difficult than their record might suggest. My prediction: Owls win in a nail-biter and stay on top of the Rankings
#2 Who wants Jenni ngs or Harvin? 4 -1 @ 1518 pts/gm
The Jennis have been the prettiest girl at school all season. But Week 5 really shook up the League's former No. 1 – the Jennis suffer their first loss, lose their stranglehold on the points race, lose Michael Vick mid-game (and possibly longer), lose Julio Jones for the season and fall out of first place in the Power Rankings all in one week. Sure, you could point to their failure to start a kicker, but that move has worked for them in the past, and they ended up losing by almost 600 points, so the kicker wouldn't have mattered. But the Jennis have taken it lying down, if you will, quickly trading for Wes Welker to replace the injured Jones and nabbing Zac Stacy and Donald Brown off of the waiver wire. And since Bradford is a capable replacement for Vick, the Jennis should weather this rough patch just fine. Up next they have their favorite trade partner, the Nots, and since the Jennis have taken three of the Nots best players already, I think they get the win. My Prediction: Jennis bounce back, improve to 5 – 1
Tier 2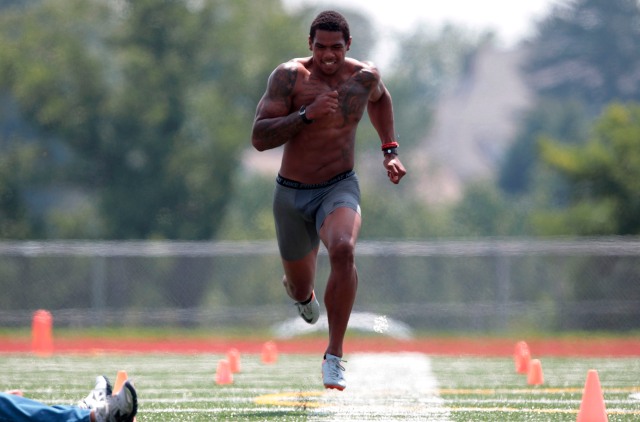 After looking at the Rankings long and hard, I decided that the tiers also needed to change this week. Above, you are looking at the odds on favorites to win this season. Does that mean they will? Hell no. Better teams have lost before. But, in the humble opinion of the rankings, they are a cut above the Albinos and the BOOs, for now. But there's also no question in my mind that these next two teams are head-and-shoulders above the next grouping.
#3 Albino Polar Bears 4 – 1 @ 1418 pts/gm
We have a new team in three spot as well this week, thanks to the White Bears' Week 5 performance. If Terrelle Pryor continues his steller fantasy play and Jay Cutler keeps it rolling, then this team is way more dangerous than I first thought. Because quarterback was their weak spot. Now that they have Arian Foster to go with T-Rich, their running backs look solid. But you wonder how much what's going on in Houston with Schaub is going to effect Andre Johnson. Still they have DeSean Jackson and Jimmy Graham too, so they have stars to spare on this squad. And with the Cooch of Yore up next on their schedule, it's hard to imagine them losing this week either. My prediction: Albinos win in a laugher, improve to 5 – 1
#4 BOO YAH! 4 – 1 @ 1429 pts/gm
After winning four straight (and not moving up in the Rankings once), the BOOs drop their first game (to the best team in League) and drop a spot immediately. This is a roster that begs for a trade: they're set at quarterback (Luck/Ryan) and tight end (Cameron), and solid at wide receiver. My only critique of the pass catchers is that with Josh Gordon and Cameron, they might be a little too dependent on the Browns. But Jordy is looking very good, T.Y. Hilton is emerging and he's got Amendola and Edleman. But one glance at the running back situation (they start Giovani Bernard and Danny Woodheard – start!), they clearly need to improve their to have a shot at the top spot. But given their stance on future draft pick trading, will they be able to keep up in the arms race? In fact, if I were them, I would watch out for those sneaky Deer this week. My prediction: BOOs are stunned by the deer, drop to 4 – 2
Tier 3

There are five teams in this group because, well, after five games, I don't know what to make of them. Some teams have good records but low totals, others have bad records and higher totals, and the rest have started selling off their teams and are winning anyway. So for now, they get lumped together.
#5 Caminker Hair Mousse AllStars 2 – 3 @ 1291 pts/gm
The AllStars had a strong outing against the Overachievers and it was a total team effort, with 8 players scoring in triple digits. But the AllStars are all over the place, with five quarterbacks on the roster (Eli, Schaub, Manuel, Foles, Fitzpatrick) and two starting running backs on their bench (Spiller, McGahee). The Schaub situation is a nightmare for the Stars, but maybe they can use their running back depth to get another consistent stud going forward. This is not a team you want to let into the playoffs, because they have the kind of players that could catch fire at the right time. They can't afford a loss to the Weinermans this week though, if they want to continue their march up the Rankings. My prediction: AllStars trip over the Weinermans, drop to 2 – 4
#6 1-Legged Deer 3 – 2 @ 1125 pts/gm
Could I have been more wrong about the Deer's performance in Week 5? I predicted a season-high, and instead they get double-up'd by the Weinermans after putting up the lowest total of the season. Pretty much the whole team shit the bed, which doomed them from the start and some questionable management decisions sealed the deal. I trust the Deer will not leave Moreno on the bench against the Jaguars. But I still think this team is the most well-rounded in this tier, so think they'll make the play-offs and they could contend, if they add a stud running back or wide out. I think this is a statement game against the BOOs. My prediction: Deer topple the BOOs and continue their climb up the rankings
#7 Not Relevent! 3 – 2 @ 1318 pts/gm
Right now, Hank is the Billy Beane of the Bad News Barristers. Every week he sends away more players, and yet he keeps on winning anyway. As noted in the trade announcement, the Julio Jones/Wes Welker trade really fit the Nots plan going forward giving them maximum flexibility with Dez and AJ. But will anyone be willing to part with their first rounder? I think this week their trades catch up to them. My prediction: Nots get rolled by the Jennis, drop to .500
#8 FLACC OFF 1 – 4 @ 1303 pts/gm
It's easy to blame Tony Gonzalez and Bilal Powell for the FLACC's Week 5 loss to the Nots. All they had to do was get one touchdown between them on Monday Night Football to get the win, and they failed. But it was a down week for everyone on the squad this week and the fourth loss puts the OFFs in a very precarious position. They haven't declared themselves a buyer or seller this season, but with another loss or two, is there any way they could realistically be a buyer at the deadline? They have the Somethings this Week, so it's a crucial that they stem the tide of defeat. My prediction: OFFs right the ship, pick up their second win of the season
#9 Suckmy Weinermans 1 – 4 @ 1226 pts/gm
There won't be a winless team this season, folks! Congrats to the Weinermans on their win over the Disabled Deer. The Deer may have rolled over, but the Weinermans ran up the score, lead by Tony Romo's 548 points. Is it possible that the Weinermans are getting better? No, just look at their bench – it's a joke. But Geno Smith is no joke, in fantasy anyway, so there may be more emails in our future. And the ownership clearly hasn't given up on this season (or at least acquiring more picks) because they nabbed Garrett Graham off of waivers in the wake of the Owen Daniels injury-news. Impressive. I like the vibe in Wein-town right now, and I think they keep it rolling this week against the AllStars. My prediction: Weinermans get their second win of the season
Tier 4

Three teams are in the bottom tier this week, each for different reason. One is here because their ownership is so inept, they weren't able to start a quarterback. Another is here because the ownership is so inept that they lost to the team that couldn't start a quarterback. And the third is here because, despite the ineptitude of the ownership of the other two teams, they have the lowest point total in the League. Let's go dumpster humping together, shall we?
#10 The Overachievers 1 – 4 @ 1040 pts/gm
The winningest team in League history is off to worst start ever, losing for the fourth time in five games to the AllStars by 971 points. And even if the Overachievers would have had the foresight to start Justin Blackmon (221 points), they still would have gotten crushed. The week started on a bad omen with Hoyer going down in the opening moments of the Thursday night game. But only DeMarco Murray and Cam Newton cracked triple digits (and only barely), so there wasn't a single bright spot for the Overacheivers this week. I thought this team would turn it around, but when you're the lowest scoring team through five weeks, the writing is on the wall – they're just not very good. And things don't get much easier this week against the Owls. My prediction: Overachievers lose again, but, as a team, they will outscore Peyton Manning
#11 Ndamukong Something 2 – 3 @ 1102 pts/gm
The inches we need are EVERYWHERE! They were the worst team in the League, their only quarterback (The Giraffe) and second best receiver (V-Jax) were on a bye and their best player (Megatron) was a late scratch. But with yeomen performances from Cecil Shorts, Jacquizz Rodgers, Matt Prater and the Bengals' defense, the Somethings pieced together enough points to defeat the Ole' Cooch. Sure, the Cooch were without AP All Day, but that really shouldn't have mattered. Although they have a better record then their Week 6 opponents (FLACC OFF), they are early underdogs in Vegas (+255). My prediction: Something's get OFF'd, fall to 2 – 4
#12 Yester Cooch 2 – 3 @ 1246 pts/gm
After seemingly taking the first four weeks of the season off, the Cooch of Yore sprang to life in Week 5, snagging Kenjon Barner (for $9) and Ryan Succop off the waiver wire. But they couldn't keep up that pace for long, because they forgot to start Succop and squared off against the Somethings without a kicker. And even if they had gotten credit for Succop's 110 points, they still would have lost, they would have won easily had they started James Jones over Sidney Rice. I don't care what the explanation is, if you lose to a team without a quarterback, you deserve to be ranked last. And I think they'll be here for a little while, because they're next two opponents have a combined record of 8 – 2. My prediction: Cooch get crushed and get comfy in the basement