Tier 1
Not to toot my own horn, but all three of the teams in Tier 1 of the Power Rankings won in Week Four. And so, (spoiler!) our top three teams all remain the same. But with the top four teams all playing each other in Week Five, something tells me that this list will be slightly different next week. For now, on with the rankings!
#1 Who wants Jenn ings or Harvin? 4 – 0 @ 162 pts/gm
The Who…? predictably bagged their fourth win in as many weeks against an Aaron Rodger-less FLACC OFF. It was another all around performance for the League's top scoring team, but it is becoming clear that their weakness at running back make them vulnerable to upset. They have a tough matchup against the Albinos this week, but the White Bears have never outscored the Jenns, so I doubt this week will be any different. My prediction: Jenns improve to 5 – 0
#2 Sophisticated Owls 2 – 2 @ 147 pts/gm
The Owls were the League's top point-getter in Week 4 (148 pts) behind another sterling performance from Peyton Manning (40 pts), and yet they only barely topped their weekly average! Without any glaring weaknesses, this team has some tough decisions to make about where to take this team from here. There's little question that the only thing keeping the Owls out of the top spot is their Week One loss to the Jenns, but a loss to the BOOs in Week Five might push them in the other direction. Random thought – how much do you wish Santonio Holmes was Antonio Brown? But even if Greg Jennings turns out to be relevant again with Cassel under center, what this team lacks is depth, so to get better, they'll probably have to give up picks. My prediction: Owls shake off the BOOs to make it four straight
#3 BOO YAH! 4 – 0 @ 145 pts/gm
Undefeated and still in the hole, fans of the BOOs have a right to complain. But they only beat the Weinermans this week (see waaay below) and they missed their average this week with only 140 points. On the other hand, if they had started Woodhead (23 pts), they'd have been the Week's top scorer. But that cuts both ways, doesn't it? This week's matchup against the Owls will reveal whether the BOOs are for real. Incidentally, this is one of the few teams with a quarterback to trade, and they might have to if they want to keep pace with teams ahead of them.
Tier 2
I would also like to take this opportunity to pat myself on the back for predicting that Matt Cassel would become the starter in Minnesota. And, if I've been smart enough to actually start him over Flacco (who threw five interceptions), I might actually have beat Greg. And yes I know that Leslie Frazer has said Ponder is his starter, but he's also said they'll consider all options. You know what that means? Mike Glennon is Osman's only starting quarterback! Amazing!
#4 Albino Bears 3 – 1 @ 136 pts/gm
The Albinos survived the trap game against the Somethings and can now focus all of their attention on their showdown against the undefeated Who…? If Le'Veon Bell is for real, then the Albinos have even more depth at running back. And is Jimmy Graham the most valuable non-quarterback in the league? Absolutely. If they're going to be a top seed though, they're simply going to have to find a way to score more points.
#5 FLACC OFF 1 – 3 @ 134 pts/gm
Even though they were huge underdogs going into their Week Four matchup against the Who…? without Aaron Rodgers on the field, FLACC OFF lost because of bad management. In addition to the Cassel thing, they also left the Niners defense on the bench against the Rams. But riddle me this… Has a team owned by the Commish ever looked the same in Week Fourteen as it did in Week Four? Who is interested in the services of Lee Daniels presents Alfred Morris? Did you know that even his father's father was a gentleman's gentleman? It's a risky matchup against the Irrelevants in Week Five, and they're chances of success may depend on quickly Hank can unload his best players. My prediction: Rodgers bounces back, FLACC wins no matter what Hank does
#6 1-Legged Deer 3 – 1 @ 123 pts/gm
The Deer mark are the team making the biggest jump in the rankings. But their 147 point total and .750 winning percentage must be recognized. With seven players in double digits, it was a total team effort for the Deer, but their MVP was…? You guessed it: Alex Smith (30 pts). And they may have more depth than I gave them credit for, leaving two 20+ scorers on their bench (Alshon Jeffery and Nate Washington). Lynch and Moreno are turning out to be formidable, but they'll need one more running back keep this meteoric rise going. And the odds are in their favor, they have the Weinermans this week. My prediction: Deer set a new season-high and move to 4 – 1
Tier 3
And one wonders how Tom feels now after he picked up Matt Flynn on Thursday, only to drop him on Saturday (to be fair, it was after it been said that Pryor would play), only to have Greg snatch Flynn up on Sundayafter Pryor was officially declared inactive. I wonder how Greg feels about paying $3 for Matt Flynn. They both probably better than Osman feels.
#7 Not Relevant! 2 – 2 @ 134 pts/gm
The Rankings work in mysterious ways… After losing to the Cooch of Yore, the Irrelevants moved UP two spots! But a name change is worthy of recognition. To say nothing of the fact that, when the moon is right, this team becomes a beast – Sproles, Bryant, Green and Welker are all capable of posting serious numbers. But Dalton/Tannehill might be too shitty of a QB-combo to overcome. And just when Locker started looking good, he broke his hip? What the f#ck is that? . . . Is what I would have written before Hank lit the slow fuse on the ticking time bomb that is his roster. Those sweet players mentioned above? You can have any of them. And Osman, you can have those quarterbacks. It's not like I thought he was gonna win this week anyway, but now his prospects for the future look even more grim. My prediction: It's all down hill from here
#8 Yester Cooch 2 – 2 @ 133 pts/gm
It was the Cooch versus Irrelevancy, which made it almost poetic, but it was more about Sproles (28 pts) versus Brees (46 pts). Well, Bress won and the Cooch of Yore crack the 150 mark and improve to 2 – 2. But after Brees (and AP, who had 26 pts), this team doesn't have much to be excited about. Maybe they have depth? Nope – there were five squadooshes on their bench. And that doesn't count James Jones's bye week. But they have the Somethings this week, so look for their current streak to continue. My prediction: Cooch win, but barely
#9 The Overachievers 1 –  3 @ 116 pts/gm
The Achievers beat their average in Week Four, but their average is so paltry, that they are in serious danger of dropping into the bottom tier. The wide receiver core is the clear weakness here, so that is something they are going to have to address if they ever hope to sniff the second tier. They have a very winnable game this week against the AllStars, and I'm not sure that Hoyer shouldn't be this team's starter over Palmer with RGIII on a bye. Just sayin'. My prediction: Overachievers win easily, improve to 2 – 3
#10 Caminker Hair Mousse AllStars 1 – 3 @ 124 pts/gm
The AllStars used to think of themselves as the Patriots, winning multiple championships thanks to clever roster decisions and crafty, some might even say 'shady,' trades. But who are they now? The Redskins? The Browns? The Jaguars? The Eli Manning trade–and keeper decision–looks worse by the week, and the Spiller trade might end up screwing us all by paying a premium for Freddy Jackson's back-up and setting the market so high.  I don't know what to expect from the AllStars in the future, but I know better than to count them out.
Tier 4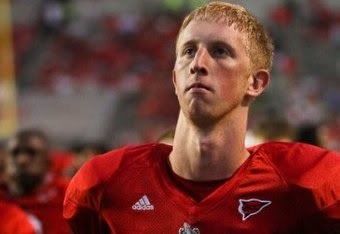 Is that a giraffe? Napoleon Dynamite? Nope, that's Osman's best quarterback! Last week's bottom feeders both lost again (surprise, surprise), but they were also the two lowest scoring teams. So don't I deserve some props? No? Okay fine. But let's agree that you don't want to see your team name in this tier.
#11 Suckmy Weinermans 0 – 4 @ 117 pts/gm
Who wants the Colts defense? 'Cause the Weinermans will trade you the Colts D for a second round pick and a hundred dollhairs. The fact that this they scored over 100 points is frankly impressive. If Kaepernick starts playing well, you might actually see another trade out of the Weinermans before the deadline. Which means we have at least 27 more emails in our future. Maybe by number 25 we'll figure out how to spell Geeno Smith. My prediction: Loss number five will come at the hooves of the Deer
#12 Ndamukong Something 1 – 3 @ 108 pts/gm
All kidding aside… This team is terrible. After scoring just 85 points in Week Four, the Somethings are coming dangerously close to warranting their own tier. No one likes to see Megatron and Jamaal Charles become delicious tuna for the sharks in Tier 1 to feast on in the trade waters, but when the kicker is the next best player on the team, what choice do you have but to blow it up? I guess you could trade your whole 2014 draft for Peyton Manning. But you'd probably still need to throw in Vincent Jackson. The real question is: if the Weinermans get blanked this season, will the Somethings ever take over the #11 spot? My prediction: If they don't win this week (and I don't think they will), they may not win again this season
Update (Tuesday @ 11am): I just realized that the Giraffe has a bye this week. So unless the Somethings can nab Ryan Fitzpatrick off of the waiver wire, then they will not be able to field a starting NFL quarterback this week. Unprecedented! Stay tuned!