The first edition of the Power Rankings make their debut with Week Four looming. And perhaps rightly so, as we are just now beginning to see the power structure of the League take form. On with the Rankings…!
Tier 1
#1 Who Wants Jenn ings or Harvin?  3 – 0 @ 167 pts/gm
Not Greg, apparently, since neither Jenn ings nor Harvin have been on his roster this season. And while he now has the stupidest team name in the League, our 2011 Champion also has the League's most dominant team. Led by the dynamic quarterbacking duo of Matt Stafford and the incomparable Michael Vick, the Who…? have vanquished FLACC OFF, The Overachievers and Hopefully Relevant on their way to a perfect record with an astonishing 167 points per game. Of course, Stafford and Vick combine for 57.5 points per game themselves. Oh, and their second highest scoring quarterback is actually on their bench (Sam Bradford), so they've got that going for them too, which must be nice. Also nice are the trio of wide outs they can field every week: Brandon Marshall, Julio Jones and Demaryius Thomas. Following the Hank Dunfee model of success, the Who…? is totally reliant on those receivers, because their running backs are the impenetrable Matt Forte, the law firm of BenJarvus Green-Ellis and… DeAngelo "I Had Fantasy Relevance 5 Years Ago, I Swear" Williams… yikes. They probably won't lose this week either though, because they face FLACC OFF on Aaron Rodgers's bye week. But their next four opponents after that have a combined record of 8 – 4, so we'll see how long that undefeated streak lasts…
#2 Sophisticated Owls 1 – 2 @ 147 pts/gm
The number two scoring team in the League (although still 20 points behind the Who…?) has the horse-like, 4x MVP, Peyton Manning, who is averaging 42 points per game and is very sophisticated. The Owls deserve all the points that Manning reigns down this season, having kept Manning the last few seasons through trades and backiotomies alike. But that's not all the Owls have going for them. They also have the rejuvenated Phillip Rivers, the steady Jason Witten and the thus-far under performing Doug Martin, Frank Gore and Larry Fitzgerald. That's right, imagine what will happen when the Owls can really spread their wings! Joqiue Bell could be the steal of the draft and they also have Fred Jackson on their bench (are you paying attention here, Weiss?). So how do they have a losing record, you ask? Well, because Who wants Jenn ings or Harvin? put up 191 on them in Week One and FLACC OFF hung another 173 on them in Week Two! But I expect this team's record to be turned around by mid-season, and if they can pull off a blue chip trade, they should be one of the favorites to go the distance with Peyton at the helm. I think they can safely drop Nate Burleson at this point though.
#3 BOO YAH! 3 – 0 @ 146 pts/gm
How is this team undefeated? I ask you. Don't get me wrong, they have pieces all over the place: Jordan Cameron turns out to be a beast, Jordy Nelson looks to be in peak form this year and Matt Ryan and Andrew Luck are about as good as it gets at quarterback (but see, Greg's team). But after that, what am I looking at? Lamar Miller? Giovani Bernard? T.Y. Hilton? That may be a fantasy all star team in 2015, but right now it looks more like list of the week's top waiver wire pick-ups. But the Boos have never scored below a buck thirty and, while they haven't played great competition (Yester Cooch, Albino Polar Bears and 1-Legged Deer), their games haven't really been closely contested. Still, I don't think this team (as currently configured) is going to be a top seed at the end of the regular season. But for right now, they round out the top tier.
Tier 2
#4 Albino Polar Bears 2 – 1 137 pts/gm
Fantasy teams, like real teams, need identities to win. And the Black Bears are, to mix metaphors, work-horses. They're not gonna sniff 200 points this season, but they will string together wins. Russell Wilson and Terrelle Pryor are a surprisingly good pair of quarterbacks (averaging over 40 points per game). And they have Jay Cutler! Okay, that one's a joke. But the Albinos also have a really good tandem on wide outs in DeSean Jackson and Brian Hartline, and you simply cannot overstate the value of Jimmy Graham. If the Albinos hadn't lost to BOO YAH! in Week Two, they would be in top tier despite their lower point total; but wins against the Suckmy Weinermans and Ndamukong Something are nothing to write home about (see Tier 4). With the right acquisitions, I could see the 2010 League Champion taking a run at another title this year.
#5 FLACC OFF 1 – 2 @ 137 pts/gm
I have been accused on more than one occasion of ranking myself too high. But with Aaron Rodgers and his 33 points per game, I always have a chance, and Alfred "The Butler" Morris and Reggie Bush are turning out to be solid running back pair. But my only win came against the Owls in a monster Week Two performance, and after losing to the Caminker Hair Mousse AllStars and Yester Cooch, I traded for Bilal Powell to add running back depth. I do feel pretty comfortable with Randall Cobb, Pierre Garcon and Steve Johnson as my wide outs though. If ToGo steps it up, this is a team you do not want to face come play-off time.
Tier 3
#6 Caminker Hair Mousse AllStars 1 – 2 @ 126 pts/gm
The Caminker Hair Mousse AllStars are trying to rebuild the dynasty and their desperation showed as they took Suckmy Weinermans main trade-bait and sent their 2014 first round pick off for C.J. Spiller. A Spiller-Rice tandem sounded killer in August, but how 'bout now? There is still plenty of time for them to bounce back though, and CJ2k is no slouch for a RB3. The AllStars have also been active on the waiver wire, snagging early waiver darling Julius Thomas and recently adding Willis McGahee, Ryan Broyles and the Chiefs defense. And I'm sure we haven't seen their last trade of the season. Percy Harvin ain't walkin' through that door any time soon, so they'll need more help if they are going to regain a winning record (their only win is against me and they lost to the Owls and Hopefully Relevant!).
#7 Hopefully Relevant! 2 – 1 @ 129 pts/gm
I'm sure a tear was shed in the Dunfee household when the Jaguars downgraded Denard Robinson from "Offensive Weapon" to just "Wide Receiver." I am also surprised not to see the form namesake of the Hopefuls on this roster, because every other wide receiver is – they have A.J. Green, Dez Bryant, Wes Welker, DeAndre Hopkins, Antonio Gates and Martellus Bennett. But their only loss is the Who…?, having defeated the AllStars and the Overachievers, so what do I know? Well, I know that if you think it's hard for our defending champion to choose among the Red Rocket, Ryan Tannehill, and Jake Locker at quarterback, imagine how tough the choice is when you have Darren Sproles, Eddie Lacy, Da'Rel Scott, Bryce Brown and Bobby Rainey (who the f#ck is Bobby Rainey?) at running back!!! #GOODLUCKWITHTHAT
#8 Yester Cooch 1 – 2 @ 126 pts/gm
Yes, they have AP and Brees. That has been true since time immemorial. But the rest of their team? Yikes. Steven Ridley has been a total bust, Roddy White has been hampered by injury, Victor Cruz plays for the Giants, and the rest of his team is just ho-hum (Mike Wallace, Eric Decker, James Jones). Perhaps if this team packaged some of their middle players together for an upgrade at one position and then was willing to give up picks to acquire a top player at another position, they might have a chance. But this point, this team looks to be fish food for the eventual championship contenders.
Tier 4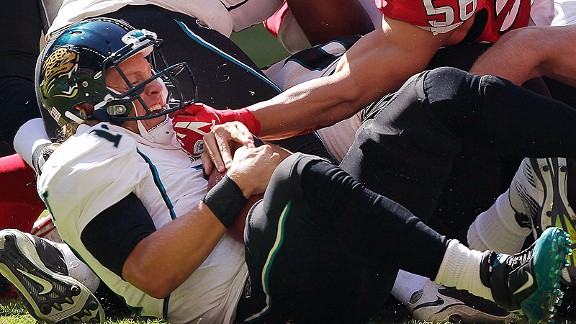 #9 1-Legged Deer 2 – 1 @ 114 pts/gm
The now confusingly named 1-Legged Deer have a winning record and can be legit contenders if with a few savvy moves. Paulson probably didn't expect Alex Smith to be THAT much better than Tom Brady, but the two have turned out to be a serviceable pair. Knowshon Moreno was a big pick-up on draft day, and Marshawn Lynch is looking to be everything he was expected to be. And, while nothing to write home about, Marques Colston and Reggie Wayne are two wide outs with big upside each week. If Maurice Jones-Drew comes around, this team could be a play-off contender and has the bones of a championship team if they can acquire a piece or two. But they'll have to do something because they are lowest scoring team in the League.
#10 The Overachievers 1 – 2 @ 115.5 pts/gm
Admittedly, the numbers aren't their for the Overachievers. For right now, at least, the name does not fit the team. But on paper, I still like this team:  Arian Foster and RGIII are both under-performing but are still fully cable of becoming dominant again. Even Cam Newton hasn't fully reached his potential yet. But Demarco Murray is running strong and when Gronk comes back (which looks like it will be next week), the Overachievers can run with anyone in the 'Lig.' Plus, the ownership remains as strong as ever, nabbing Eddie Royal, Kenbrell Thompkins, James Starks and Brandon Hoyer off the waiver wire. Watch for this team to creep up the rankings from here… They've already played the Who…? and, well, um, the Weinermans and the Hopefuls, so they've got a lot to look forward to.
#11 Suckmy Weinermans 0 – 3 @ 119 pts/gm
After selling his soul last season in a desperate attempt to win it all, the Suckmy Weinermans have flipped the script and are already a seller this year, sending C.J. Spiller to the AllStars for a 2014 first rounder pick. And while some say they were a little quick to pull the plug on this season, their record says otherwise (they lost to the Albinos, the Somethings and the Overachievers in consecutive weeks). And when you reach on a guy like Colin Kaepernick and whiff, well, then it's time to face facts. They also have Tony Romo, and LeSean McCoy is certainly the team's shining star, but those are the only guys they are unwilling to trade! The rest of the roster is absolute garbage, with more than half their starters having an ESPN ownership percentage less than 35 percent! So how is this NOT the worst team in the League? Well, let's ponder that for a moment…
#12 Ndamukong Something 1 – 2 @ 116 pts/gm
To hear the ownership of Ndamukong Something tell it, he was in the draft room, surrounding by handmade rankings and piles of research, he got up to take a whizz, and BAM! All the quarterbacks were gone! And, in a sense, we all felt that way. But the rest of us found a way to draft someone other than Christian Ponder… I mean Christian-f#ck!ng-Ponder! And here we are, already in Week 4, and who's the starter in Minnesota? You guessed it, anyone but Ponder. Go ahead, keep telling yourself that it's his ribs, and not the fact that Wario (a/k/a Ziggy Wilf) didn't finally wake up and realize, "holy-f#ck!ng-sh!t, Christian Ponder is my quarterback!" Do you think he still has Tavaris Jackson's phone number? Okay, to be far to the Somethings, their keepers are looking waaay better now (Megatron was always a beast, but Jamaal Charles has also returned to form). But after Vincent Jackson and Darren McFadden, this team falls off a cliff. Read that last sentence again. One more time. Yep, this team is in big trouble. Their only win has come against the Weinermans in Week 2 (they've lost to the Albinos and the Deer). And unless they solve the quarterback situation, its hard to image the Somethings as anything but sellers come the trade deadline.